Join Craig Jeffery of Strategic Treasurer and Eric Reyhle of GTreasury as they present this first installment of the TMS Toolkit Series. 
Building the Business Case
Date:     Tuesday, August 20, 2019
Time:     11:00 a.m. EST
Where:  This is an online event.

You want technology. It is a no-brainer. But, you are competing for dollars and mindshare. Making a significant change in treasury includes bringing the organization along on multiple fronts simultaneously. This involves socializing the need, showing the strategic fit and making the financial case. This webinar identifies major shifts in the technology environment that are driving significant spend on treasury technology. It will then show key considerations for showing an ROI and provides a 7-step plan for moving forward.
Download the deck from the webinar here:
If you encounter any issues with registration or during the webinar, please contact our team. It can take a few minutes for the confirmation email to come through.
You may also be interested in: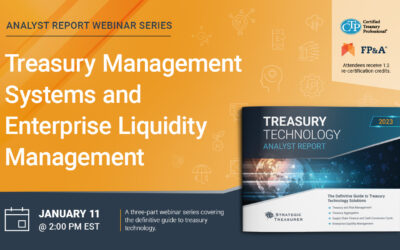 The treasury management system (TMS) automates and streamlines treasury's core tasks, forming a central dashboard for the treasury function and freeing staff for more strategic work. Recent years have seen some TMS vendors expanding into enterprise-wide solutions for tracking and managing liquidity, giving rise to the distinct enterprise liquidity management (ELM) category. From the basic TMS to the highly advanced TMS and the more comprehensive ELM system, each solution serves a segment of treasury departments. This webinar will cover the current TMS and ELM landscapes, innovations, and leading practices for selection and implementation.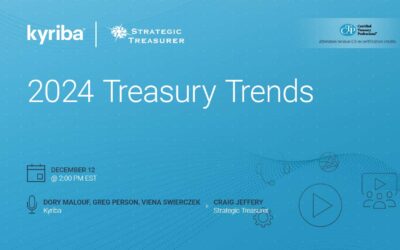 2023 is coming to a close with notable upheaval. Significant wars continue in Europe and the Middle East; central banks have increased borrowing costs to the highest rate in well over a decade; inflation has pulled back from the peak but remains above targets; borrowing costs and access to capital have tightened; FX risks remain elevated; and many CFOs are exhibiting increased caution. Several questions come up as we consider the outlook for 2024:
• How will companies need to respond to this greater recognition of the risk level?
• Are companies going to leverage their balance sheet for liquidity and supporting their trading partners?
• How does technology fit into the picture as an enabler of overhead scalability and financial resiliency?
Join this fast-paced panel discussion about the volatility of the environment and how corporate treasurers expect to manage through these more turbulent times.
In this first webinar in the Short-Term Investing Series, Strategic Treasurer and Federated Hermes will discuss the Federal Reserve's recent actions and guidance for short-term investing. After many months of aggressive rate hikes in its campaign against inflation, the Fed is moving into a new stage of its tightening cycle. Join us the day after the Fed's December policy meeting to discuss what factors should be in the forefront of investors' minds and how liquidity vehicles might respond as investors continue to pursue attractive returns.