Join Craig Jeffery of Strategic Treasurer and Eric Reyhle of GTreasury as they present this first installment of the TMS Toolkit Series. 
Building the Business Case
Date:     Tuesday, August 20, 2019
Time:     11:00 a.m. EST
Where:  This is an online event.

You want technology. It is a no-brainer. But, you are competing for dollars and mindshare. Making a significant change in treasury includes bringing the organization along on multiple fronts simultaneously. This involves socializing the need, showing the strategic fit and making the financial case. This webinar identifies major shifts in the technology environment that are driving significant spend on treasury technology. It will then show key considerations for showing an ROI and provides a 7-step plan for moving forward.
Download the deck from the webinar here:
If you encounter any issues with registration or during the webinar, please contact our team. It can take a few minutes for the confirmation email to come through.
You may also be interested in: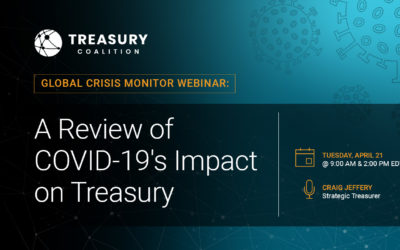 This webinar will review the Global Crisis Monitor results to date on the COVID-19 global pandemic, dive into cross cuts of the data, and what organizations can do moving forward.