Join Craig Jeffery of Strategic Treasurer and Kelvin McWilliams of Kyriba for a webinar on insights and tips for bursars and higher education treasury practitioners from the 2020 Higher Education survey results.
Higher Education: 2020 Survey Results Webinar
Date:     Thursday, July 23, 2020
Time:    11:00 AM-12:00 PM EDT
Where:  This is an online event.

Treasury professionals in higher education face different challenges in the workplace. We want to provide insights into these unique views. The 2020 Higher Education survey and the results focus on banking services, student enrollment and regulatory changes, fraud management, and portals, purchasing cards, and refunds.
In this webinar, Craig Jeffery of Strategic Treasurer and Kelvin McWilliams of Kyriba will use the results to show how the higher education industry differs from other industries and provide some insight and tips for bursars and higher education treasury practitioners.
While this webinar is targeted for those in the higher education industry, it is open to anyone who is interested in trends in the higher education industry.
Download the webinar deck here:
You may also be interested in: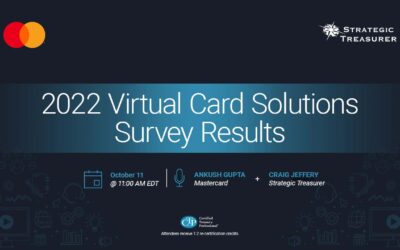 Virtual cards (sometimes called "vcards") are a payment option offering decreased fraud risk and increased speed. The 2022 Virtual Card Solutions Survey, run by Strategic Treasurer and underwritten by Mastercard, investigated the adoption rates, corporate and bank perspectives, challenges, and advantages of virtual card programs. This webinar will discuss the results, covering topics such as the payment delays and the desire for security that drive virtual card adoption, the challenges of supplier adoption and attrition for virtual card programs, the expectations and experiences of various organizations on the topic, and more.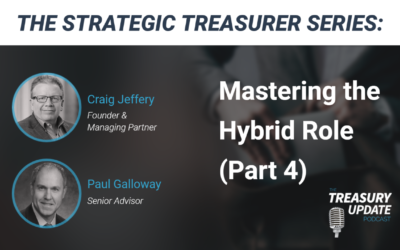 This episode is part four of our Strategic Treasurer Series on treasury roles. Although we are exploring different specific roles in treasury, it is often required for treasurers to wear many hats and fit into a hybrid role. Listen in as Craig Jeffery and Paul Galloway discuss the mindset needed for maintaining a hybrid role.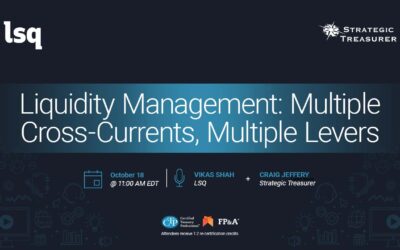 The current macro-economic situation now has multiple cross-currents and several strong headwinds from inflation rates to supply chain challenges. Treasurers are finding that they have to pull multiple levers to steer their financial ships properly in this rising storm. This session will look at the changing environment and examine how traditional and new levers can help companies navigate these choppy waters skillfully. Topics covered will include supply chain finance and other AP levers such as Pay Later, credit-as-a-service (CaaS) for AR, forecasting properly in calm vs. stormy environments, and more.