Webinars
Register for our upcoming complimentary webinars below. Each webinar is approved for CTP and FP&A re-certification credits where noted.
No Results Found
The page you requested could not be found. Try refining your search, or use the navigation above to locate the post.
Sign-up for first notice about our upcoming webinars
Webinar Replays
At this time, only live webinars qualify for CTP and FP&A re-certification credits. We have heard your requests and are working to implement a system where you can receive credits for replays. Thanks for your patience!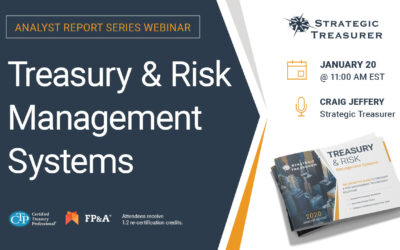 Treasury management systems (TMS) are a vital part of many treasury departments' technology stacks. In this webinar, we give a comprehensive overview of the current TMS space, showing the place of a TMS in addressing the pain points of modern treasury departments, in business continuity planning and work-from-home environments, and its uses in preparing for and managing disruption and volatility. It will cover the uses of emerging technology in TMS offerings and will discuss leading practices and proper mindsets for avoiding pitfalls in making a business case, selecting, and implementing treasury technology.
Request Future Webinar Topics