Webinars
Register for our upcoming complimentary webinars below. Each webinar is approved for CTP and FP&A re-certification credits where noted.
No Results Found
The page you requested could not be found. Try refining your search, or use the navigation above to locate the post.
Sign-up for first notice about our upcoming webinars
By filling out the form below, you acknowlege and understand you will be placed on Strategic Treasurer's email list. For more information, you can view our privacy policy here.
Webinar Replays
At this time, only live webinars qualify for CTP and FP&A re-certification credits. We have heard your requests and are working to implement a system where you can receive credits for replays. Thanks for your patience!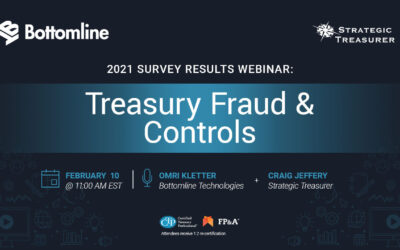 This webinar covers the results and provides insights into the 2021 Treasury Fraud and Controls Survey. This survey's purpose was to evaluate the current and projected impact of fraud on the finance and treasury environment. Practitioners were polled on their experiences with fraud and on the range of controls, safeguards, and security practices employed to protect their financial assets and information. The data was compiled and is used to educate the industry as to how the fraud landscape is evolving, and how practitioners can better protect themselves and their organizations against attacks.
Request Future Webinar Topics