As companies grow, acquire, and make various other changes, their banks and accounts tend to increase. The more banks and accounts, the harder it becomes to maintain complete and timely visibility into and proper control over cash flows. This can present various challenges and vulnerabilities, making effective bank account management an important topic for treasury departments today. In this webinar, Strategic Treasurer and TIS will discuss common issues, security risks, innovative solutions, and effective practices for bank account management in today's environment.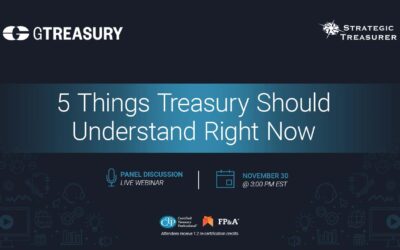 Inflation and central bank adjustments to interest rates are occupying more of our attention. How do we prepare? Changes in technology are making systems more open. How do we think about technology? How important is speed? Is it just about speed? How do we evaluate faster in light of other considerations? What are the implications of the growth of AI/ML? How prepared are our teams for these changes? This webinar will cover five key things treasury needs to consider carefully and some key actions to take now.
Sign-up for first notice about our upcoming webinars
By filling out the form below, you acknowlege and understand you will be placed on Strategic Treasurer's email list. For more information, you can view our privacy policy here.
Webinar Replays
At this time, only live webinars qualify for CTP and FP&A re-certification credits. We have heard your requests and are working to implement a system where you can receive credits for replays. Thanks for your patience!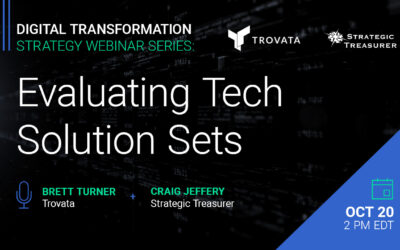 Technology solution selection projects are high stakes: Select and appropriately implement the right solution for your needs, and your company has a powerful tool to leverage for years to come – but the wrong solution for your company can ultimately become a long-term problem. The good news is that with the number of choices on the market today, there is a good fit for every customer. Finding that good fit, however, can be difficult. This webinar will outline the methods and mindsets needed for understanding your needs, evaluating the solutions on the market, and discovering which one can best help you and your team excel for years to come.
Request Future Webinar Topics