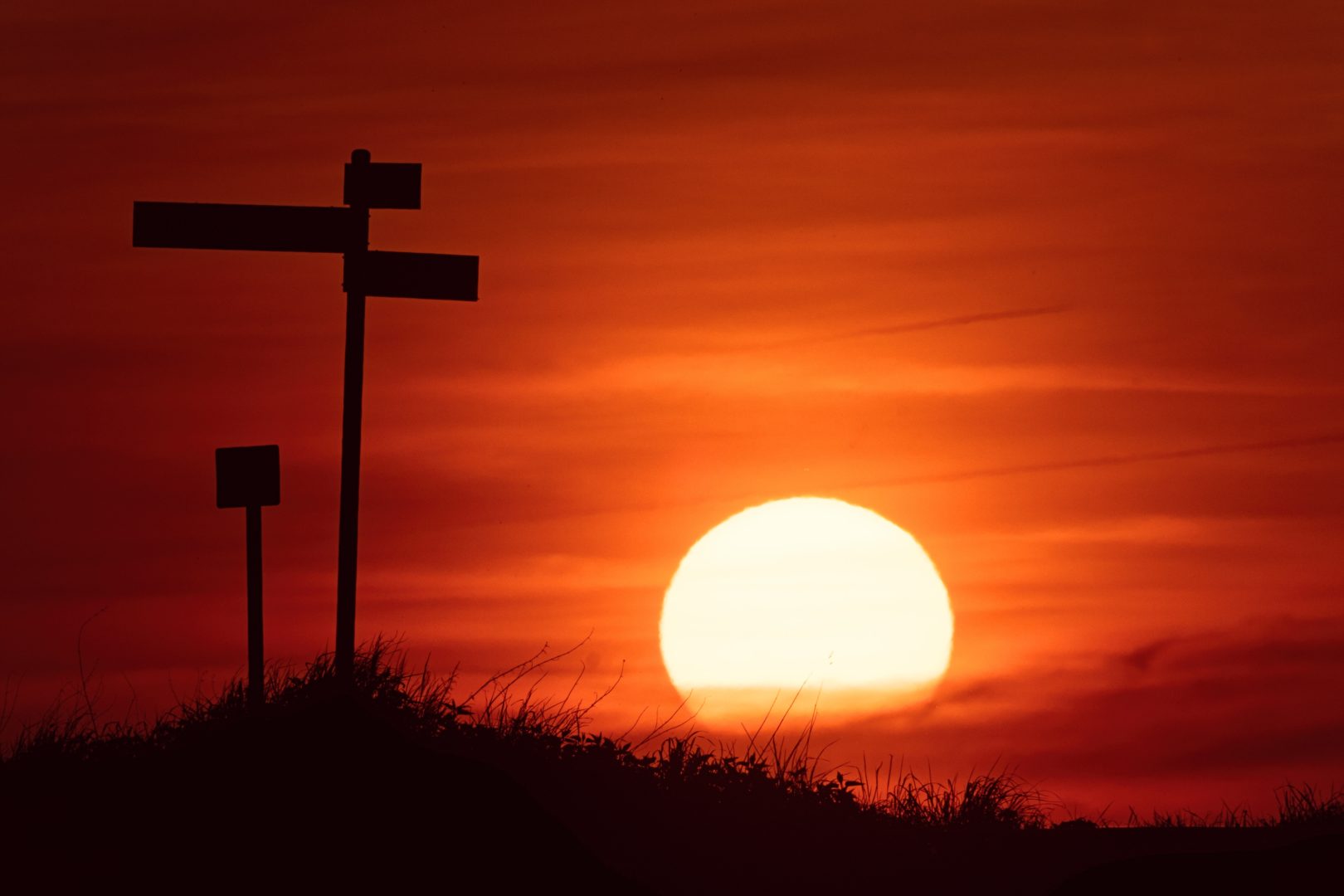 Compliance influences a majority of decisions that treasury practitioners make every day. And while the current regulatory environment is already quite complex, it seems like we're seeing new regulations appear every month. In fact, more than three quarters of organizations think that the amount of regulations will either stay the same or increase in the next 1 to 2 years. With so many existing regulations in play and new concerns on the horizon, how is a treasurer supposed to keep up with everything? We're here to help.
Second Highest Concern for Organizations
A recent survey asked the industry for their opinions on a broad array of treasury topics. We found that both banks and corporations view the cost of compliance as second highest concern after fraud. The burden of compliance requirements on the financial environment has become increasingly stringent, particularly on banks. Only 2% of corporates believed the compliance environment was less restrictive – 59% believed that current compliance requirements are larger or significantly larger today than historically. Interestingly, no bank respondents viewed the compliance environment as less restrictive, while 75% saw today's environment as more restrictive.
Compliance Updates: "…but I didn't know!"
In many cases, it is on treasury's shoulders to keep abreast of compliance-related developments. What are some ways you can keep up with these changes?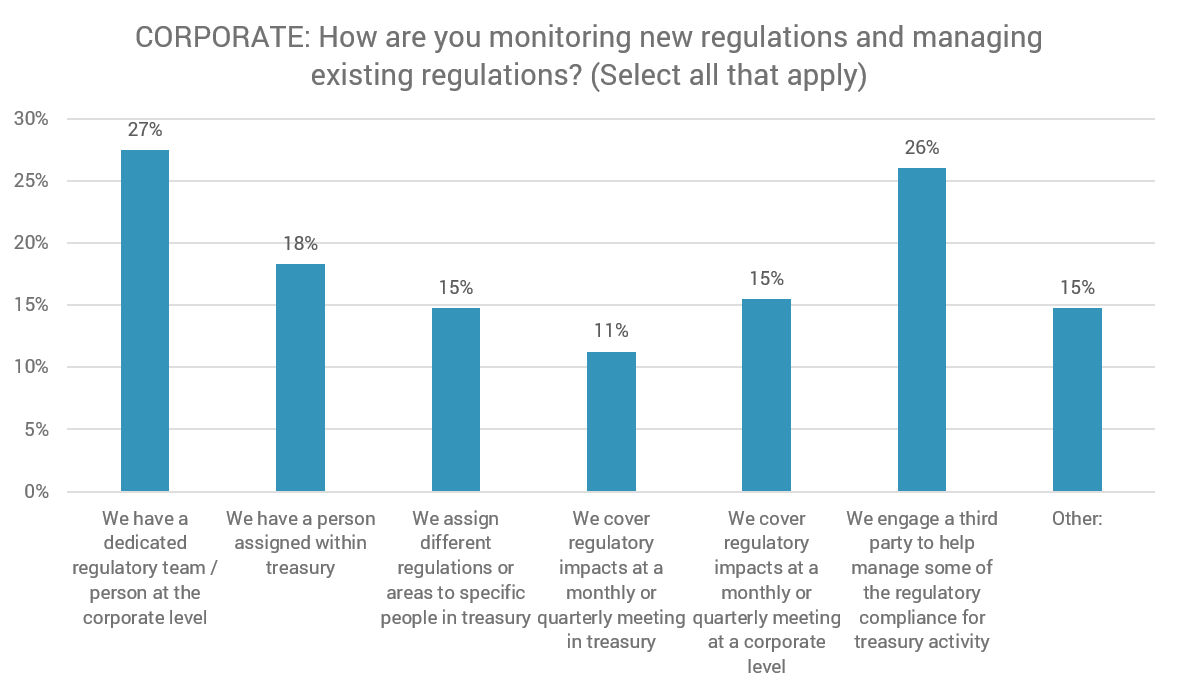 Regularly talk with your bankers
Subscribe to updates on compliance (like ours!)
General news or media
Treasury news or media
Engage with consultants
Trade organizations
Legal team, and of course
The governing body associated with the regulation
Once you find out about a new regulation, how do you share it with your team? A sampling of corporates from a recent survey have a variety of ways they are monitoring and managing regulations. We'll cover a few in more detail as we continue.
The Basics: Developing a Strategy as Needed
The first hurdle for treasurers is to keep abreast of compliance-related changes, and the second is developing a strategy for complying with required changes. While keeping up with developments might sound easy, changes are not always publicly announced. At the same time, it is not already readily apparent who is impacted by certain regulations, be it only corporates, only banks, or some mix of the two. Finally, challenges can occur when attempting to comply with the timeframe. Typically, there is a 1-2-year transitional phase to implement new regulations/standards, but this schedule may not be communicated clearly or adhered to by legislative bodies. With all of these factors to consider, how can treasury ensure they are not caught in a rush effort to comply?
The following basic steps are key once a change is identified:
Conduct Research

Who is impacted? (Industry, locations, etc.)
What areas does this affect? (Accounting, AP, Treasury, etc.)
Will I be affected? (Added cost, new workflows, etc.)
How will this affect our activities? (What specific processes or operations?)

Determine Impact

Is this a major or minor change? (In terms of cost or process/technology adaptions)

Identify Timeframe

When is the compliance mandatory? (What is the ultimate deadline for when failure to comply is considered a violation)
For many compliance issues, such as GDPR, multiple departments within an organization must work together to understand the impact and implement the change. Treasury should not always assume that other departments within the company are aware of regulatory changes. For this reason, an open line of communication and regular interaction internally can save headaches down the line.
Leading Practice: A Proactive Approach
Like a winning team that maintains a play book from which they can draw from under pressure, treasury can put in place a similar proactive framework. Without a game plan, new compliance requirements might catch treasury by surprise. Regulations may be introduced without warning, but developing a leading practice game plan to respond to changes will help to provide a streamlined process for effectively responding to new requirements. As treasury considers implementing such a game plan, the following steps would be recommended to consider.
Establish a compliance monitoring group
Identify items in need of further research
Contact proactive peers / experts for advice
Outsourcing vs Internal – Discuss the pros and cons for each with your team
Specify an Escalation process and establish timeframes
Map current processes and develop an implementation approach
Conduct implementation with regular checkpoints
Continually refine and improve new processes
We hope this guide helps, but of course it is only a guide and should not be used as any sort of legal guidance. If you need more in-depth help, please reach out regarding our compliance services.
To learn more about this, you can view a webinar replay on this topic here.
DISCLAIMER: This article provides a high-level overview of some compliance strategies, but is not intended and should not be taken as either professional or legal advice. Consult your legal team or treasury consulting firm for specific advice on legal, professional and compliance issues.
[wpforms id="29288″ title="true" description="false"]