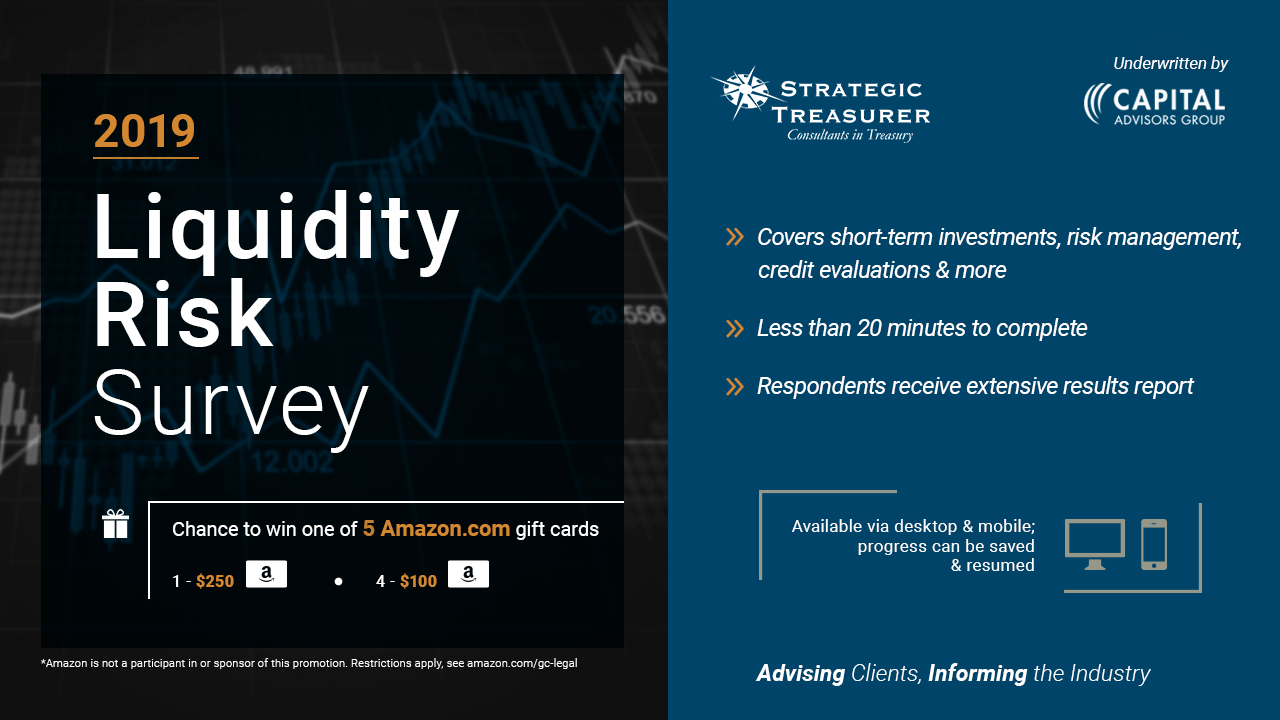 Live Survey: 2019 Liquidity Risk Survey
The 2019 Liquidity Risk Survey, presented with Capital Advisors Group, focuses on how treasury practitioners are evaluating current liquidity risk mitigation processes. We ask questions on macroeconomic changes and new regulations as they impact treasury. Some other topics covered in this survey are short-term investment, risk management, credit evaluation, debt, and more.
Join us in our market research and take the survey today!
How do treasurers effectively drive change across an organization? On this episode of the podcast, Craig Jeffery talks with Todd Picken, Treasurer at MassMutual to discuss the joys and opportunities of treasury transformation and how both need to be tempered with a dose of reality. From treasury operations to customer experience, they share valuable insights to help navigate real change across treasury environments. Topics of discussion center around achieving success through paying for transformation, moving the culture forward and getting technology to work. Listen in to find out more.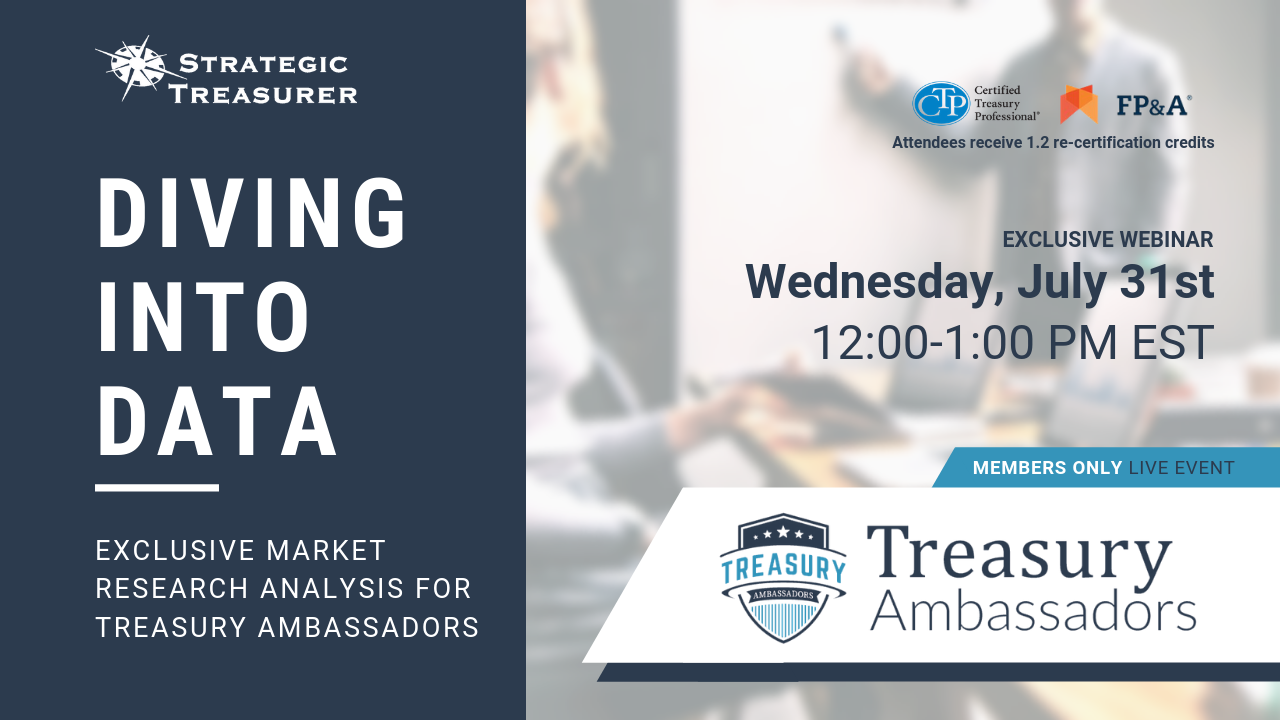 Exclusive Webinar: Diving into Data
During this live exclusive webinar for Treasury Ambassadors, Craig Jeffery will take an in-depth look at Strategic Treasurer's recent survey data that has not been previously released to the public. The topics covered include supply chain finance, fraud, payments, and cash forecasting. This will include industry distinctions to provide comprehensive information to attendees. A thorough description of what our research data shows and how it can be applied to benchmarking, highlighting elements of particular interest to for a quick recognition of what is relevant and important.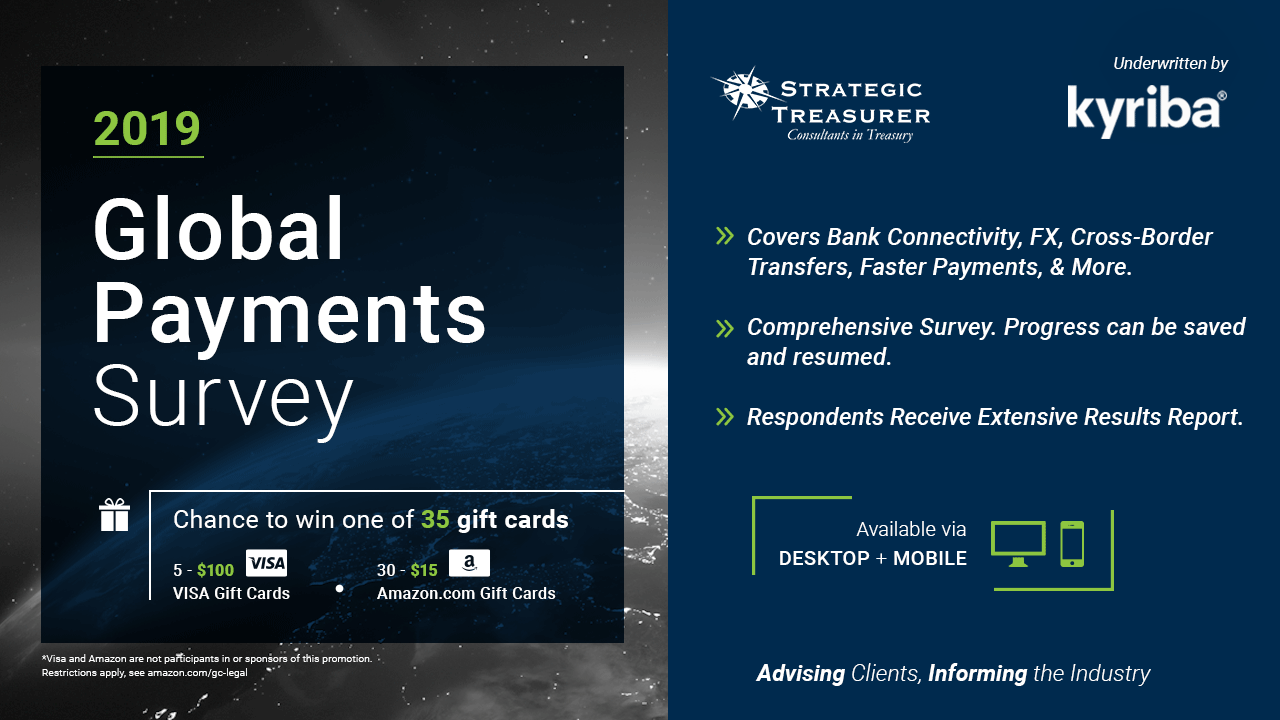 The goal of this survey is to obtain a complete view of the global payments environment as it pertains to the treasury and AP functions and identify which payment technologies and processes are top of mind for practitioners heading into the next several years.
Complete today to receive the exclusive results report!
Our mission is to elevate & enhance the practice of treasury by advising individual clients & informing the industry at large.
Advising Our Clients.
All of our consultants have practical, hands-on experience in corporate treasury environments, having held various senior management and leadership roles in numerous industries. Being able to pull on this experience, our consultants have the ability to understand that solutions and advice must be unique and contextualized to fit your organization's specific situation. They can walk you through a customized process from beginning to end and answer any questions you have along the way.
Informing the Industry.
Informing the industry is an integral part of what drives our mission. In order for the industry to advance and stay ahead of the chaos of the environment, professionals need to be aware of the leading practices that can help stabilize their companies. We aim to fill this hole by creating our own primary market research. Using this, we are able to give relevant and up-to-date information in our webinars, reports, and visual guides. We can help you fill any gaps you might have in your company.
Global & Domestic Treasury
Financial Risk Management
Working Capital Optimization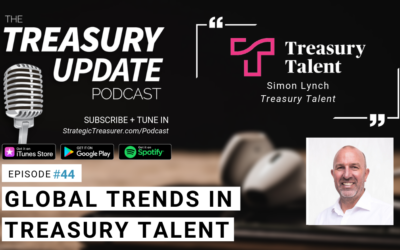 Curious about treasury talent trends and how they may impact your career? Craig Jeffery interviews Treasury Talent Founder and Director Simon Lynch on shifting landscapes across the industry on a global scale. Topics of discussion cover the rise of treasury roles among non-bank lenders, the executive demand for relational soft skills in a data-driven world, and the predictions you need for a successful future in treasury.