Period 20: Global Recovery Monitor
This ongoing industry research effort, presented by the Treasury Coalition, gathers the impact of COVID-19 on the treasury and finance industry and the industry's recovery.
Those who complete the survey will gain early access to the results report.
Join us in our market research and take the survey today!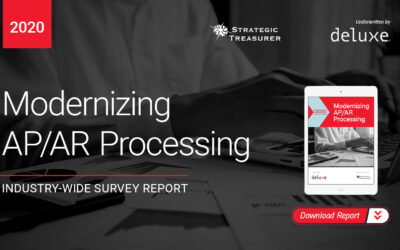 Survey Results Modernizing AP/AR Processing This survey, underwritten by Deluxe, looked at various practices and plans for modernizing and automating AP and AR processes. The influence of recent disruptions, calibration of various pain points that drive change, and...
2021 Treasury Fraud & Controls Survey Infographic
2020 Treasury Perspectives Survey Infographic
2020 B2B Payments Survey Infographic
2020 Modernizing AP/AR Processing Survey Infographic
Survey Results
Here you can find past survey results reports, articles, and infographics. If you can't find what you're looking for, feel free to reach out to info@strategictreasurer.com.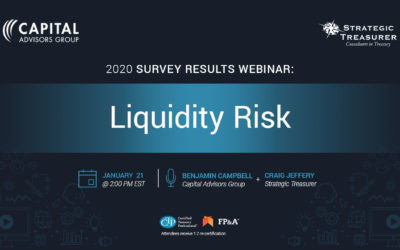 This session will cover high-level highlights from the recent Liquidity Risk survey and include some commentary from respected industry leaders as to what this means for you.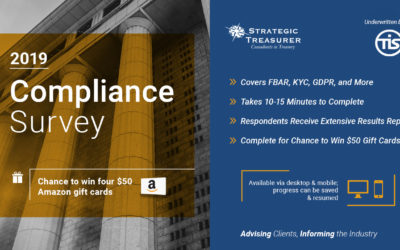 This research polled treasury and finance practitioners on their experiences, practices, and perspectives regarding a broad variety of compliance and bank account management operations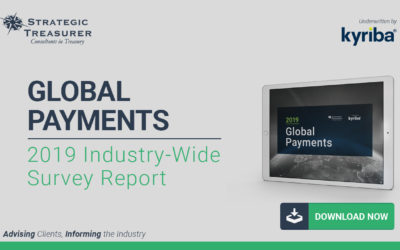 This research provides a comprehensive view of the global payments environment with a focus on the treasury function and identifies which technologies and processes are top of mind now and in the coming years.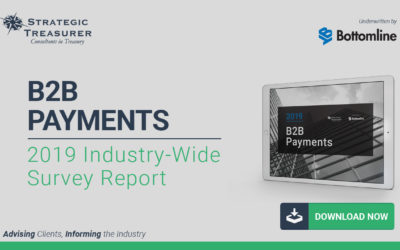 Survey ResultsB2B PaymentsIn 2019, Strategic Treasurer's B2B Payments survey, developed in partnership with Bottomline Technologies, sought to understand the shifting technologies, strategies, and practices used by organizations across the Business-to-Business (B2B)...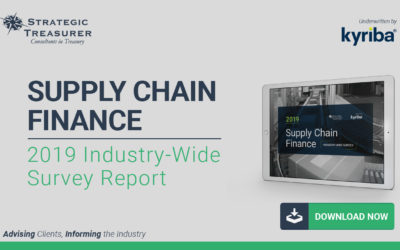 Survey Results  Supply Chain Finance  In 2019, the 2nd iteration of Strategic Treasurer's supply chain finance survey, developed in partnership with Kyriba, sought to pinpoint the unique factors that are ultimately influencing the evolution of the SCF space, both...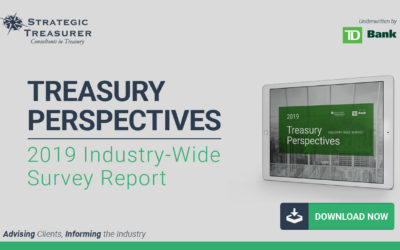 Survey Results Treasury Perspectives For the 2nd year running, Strategic Treasurer and TD Bank are proud to present the findings from the Treasury Perspectives Survey. This annual study polls treasury and finance professionals on their views regarding the economy,...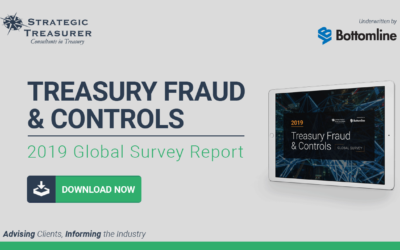 Survey ResultsTreasury Fraud & ControlsWith your help, we've consistently found that fraud is a top ranking concern for treasury. This year, as it has become a bigger issue worldwide, we discover how your experiences and practices have changed. Has your security...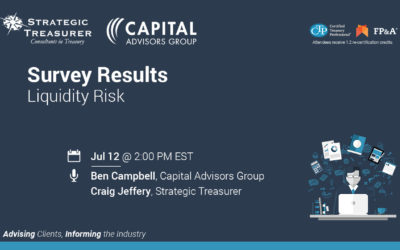 This webinar is based on the results of the 2018 Liquidity Risk Survey presented with Capital Advisors Group. During this webinar, we will discuss high-level results and provide some year-over-year comparisons. 1.2 CTP and FP&A re-certification credits will be given for this webinar.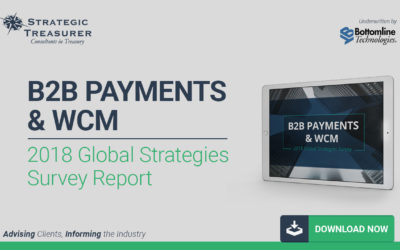 Survey Results B2B Payments & WCM Strategies Payments, especially B2B payments, are rapidly changing. Have the industry's opinions on new and emerging technologies changed? What is currently considered the "best" payment type? How does working capital affect, not...
Written an Article?
If you've written an article about our surveys (or any other report we've put out) and would like to be featured here, don't hesitate to let us know! Click below to contact our marketing manager, Ky Casanova
Contact Ky