Flash Survey | Treasury's Return to Office (RTO) Status
This 15-question flash survey will investigate the current status, plans, and responses of the "Return to Office" (RTO) in treasury. Questions revolve around respondent organization's policies regarding RTO, the changes made to employee location policies over the past three years, and staff views on work location and RTO mandates.
Only those who complete this brief survey will receive the results report.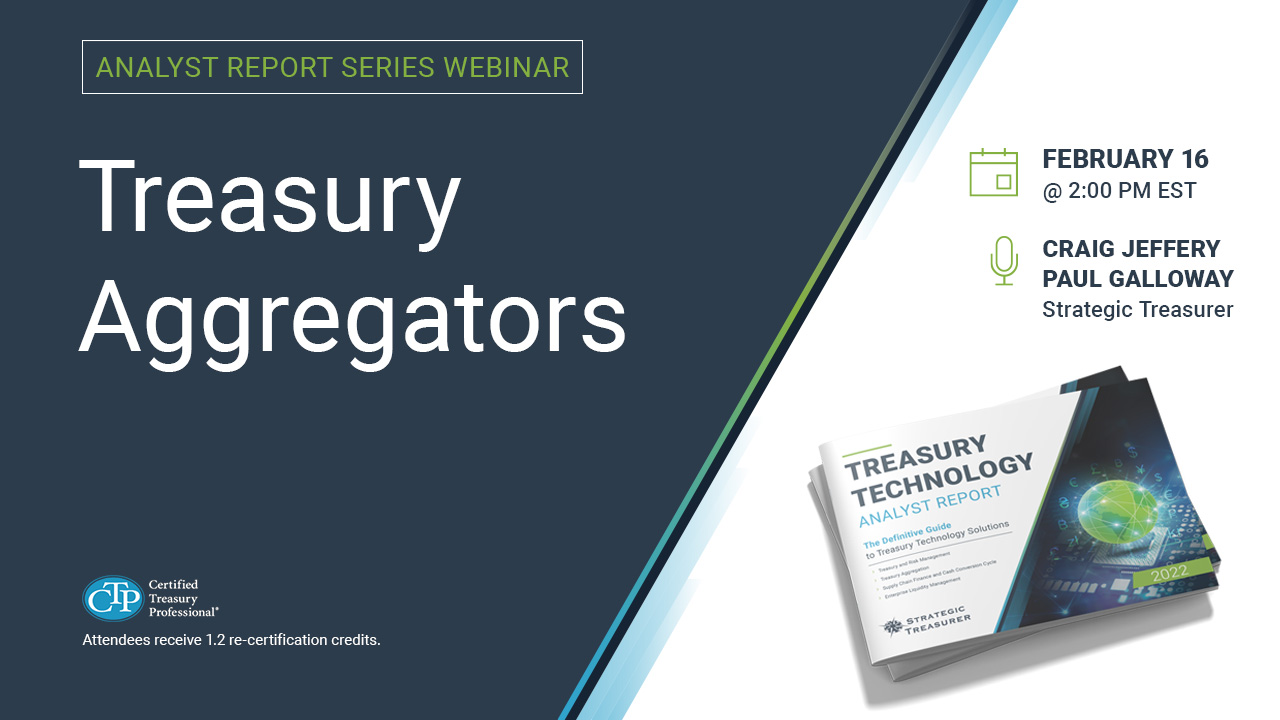 Treasury Aggregators: 2022 Analyst Report Series
Treasury departments require massive amounts of connectivity both to internal and external groups. As the company meets with changes and growth, these connectivity needs result in heightened complexity. From payment types and formats to compliance and fraud, this complexity can become overwhelming for treasury staff. This webinar will discuss how treasury aggregators (TA) address these pain points by supporting efficient and controlled operations even in the midst of complexity. Additional topics will include the role of a treasury aggregator within the larger treasury technology landscape, factors affecting the future of aggregation, and leading practices for successfully implementing a TA.
1.2 CTP re-certification credits and 1.2 CPE credits available
February 16 at 2:00 PM EST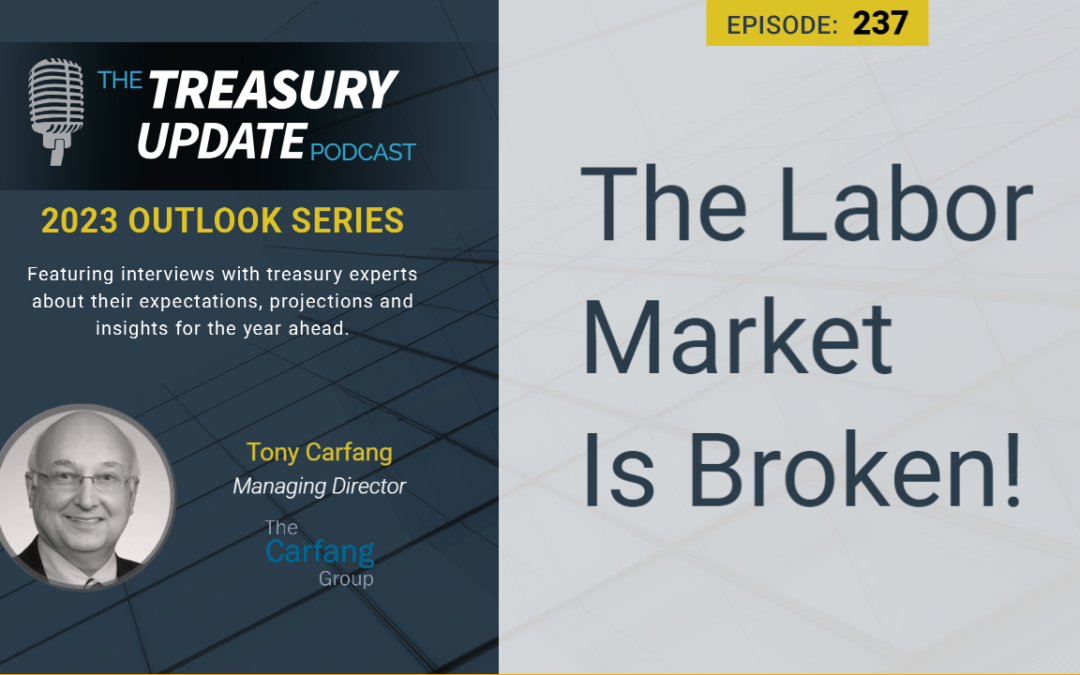 In this first episode of our 2023 Outlook Series, Craig Jeffery of Strategic Treasurer talks with Tony Carfang of the Carfang Group. They discuss Tony's outlook on the coming year, covering topics such as inflation, debt, government spending, and corporate cash.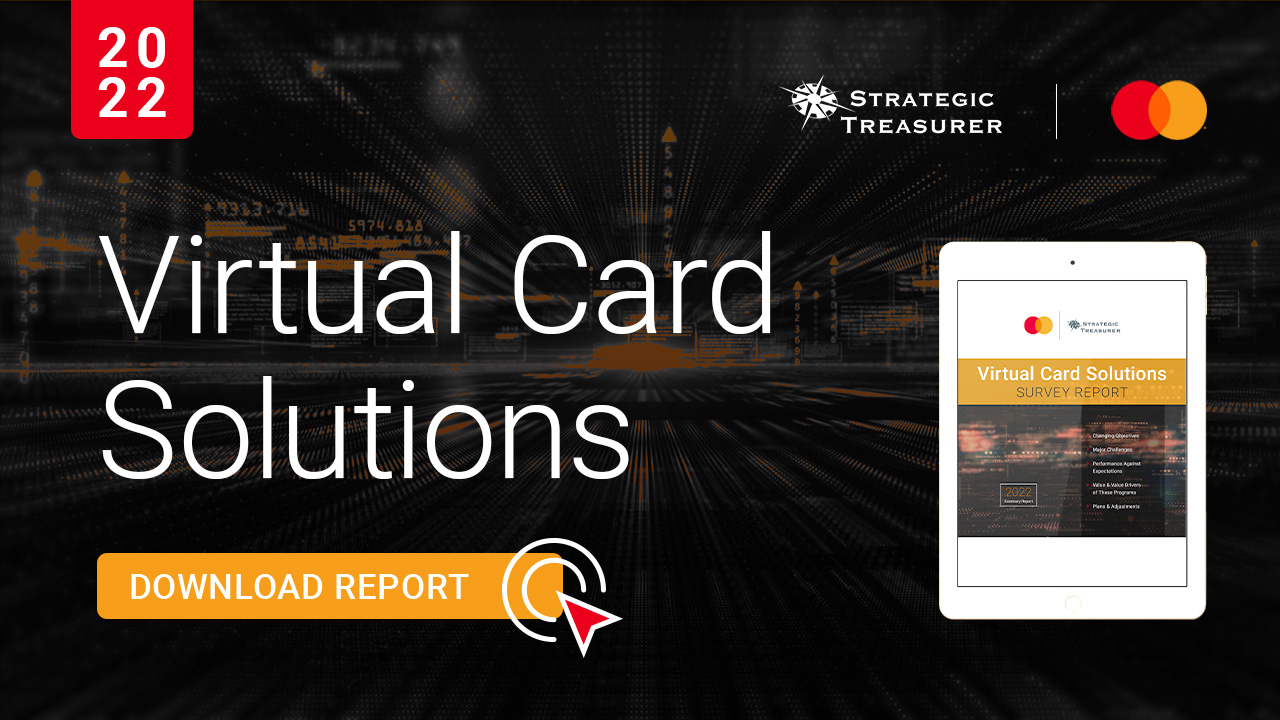 Virtual Card Solutions Report
In a growing environment of electronic payments, organizations are seeking ways to make safer, faster, and more efficient processes where visibility and value are increased and exceptions and challenges are diminished. The 2022 Virtual Card Solutions survey, presented with Mastercard, offers a comprehensive evaluation of virtual card programs and performance by organizations along with expectations and plans for the future.
Our mission is to elevate & enhance the practice of treasury by advising individual clients & informing the industry at large.
Advising Our Clients.
All of our consultants have practical, hands-on experience in corporate treasury environments, having held various senior management and leadership roles in numerous industries. Being able to pull on this experience, our consultants have the ability to understand that solutions and advice must be unique and contextualized to fit your organization's specific situation. They can walk you through a customized process from beginning to end and answer any questions you have along the way.
Informing the Industry.
Informing the industry is an integral part of what drives our mission. In order for the industry to advance and stay ahead of the chaos of the environment, professionals need to be aware of the leading practices that can help stabilize their companies. We aim to fill this hole by creating our own primary market research. Using this, we are able to give relevant and up-to-date information in our webinars, reports, and visual guides. We can help you fill any gaps you might have in your company.
Global & Domestic Treasury
Financial Risk Management
Working Capital Optimization
Sign up for our newsletter here
Join our mailing list to receive the latest news and update by filling out the form below.
By filling out the form below, you acknowlege and understand you will be placed on Strategic Treasurer's email list. For more information, you can view our privacy policy here.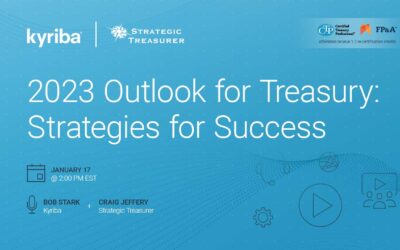 As we leave 2022 behind us, we find 2023 starting with both high volatility and increased expectations for managing risks. What does this vulnerability mean to treasurers? What types of outcomes should we expect across the domains of credit, FX price volatility, elevated inflation, and increasing interest rates?
As treasurers examine the environment and how to address it, this dialogue will look at strategies for managing FX volatility, ways companies are thinking about data and artificial intelligence/machine learning, faster and real-time treasury (hype vs. the reality of everything moving faster), and the annual challenge of forecasting liquidity. Join Bob Stark, Kyriba, and Craig Jeffery, Strategic Treasurer, as they share their thoughts and draw out distinctions, useful frameworks for thinking, and practical approaches to help your organization succeed in 2023 and beyond.