Webinars
Register for our upcoming complimentary webinars below. Each webinar is approved for CTP and FP&A re-certification credits where noted.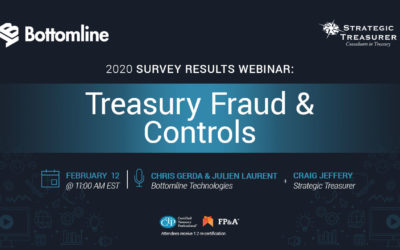 This webinar covers the results and provides insights into the 2020 Treasury Fraud and Controls Survey. This survey's purpose was to evaluate the current and projected impact of fraud on the finance and treasury environment. Practitioners were polled on their experiences with fraud and on the range of controls, safeguards, and security practices employed to protect their financial assets and information. The data was compiled and is used to educate the industry as to how the fraud landscape is evolving, and how practitioners can better protect themselves and their organizations against attacks.
Sign-up for first notice about our upcoming webinars
Webinar Replays
At this time, only live webinars qualify for CTP and FP&A re-certification credits. We have heard your requests and are working to implement a system where you can receive credits for replays. Thanks for your patience!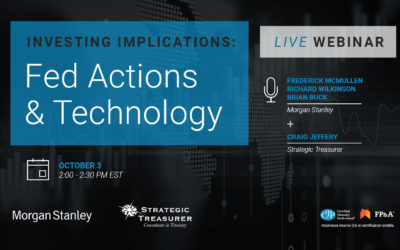 From shifting plans regarding rate changes to quantitative easing and mixed messages from the FED to other central bank activities of the ECB and BOJ, corporate investors are looking to understand the implications of these activities across the globe. Concurrently, radical shifts are underway with technology for finance impacting treasury and corporate investment teams. From APIs to RPA and Machine Learning, the impact and implications for connectivity, visibility and liquidity management are striking. This webinar examines the major shifts and implications for treasury/investors. Experts from Morgan Stanley and Strategic Treasurer team to provide a fast-paced dialog focused on Investing Implications.
Request Future Webinar Topics
Past Webinars
Take a look at our past webinars here. You can request the deck and see a recording of the webinars. Unfortunately at this time, these webinars are not available for CTP recertification credits.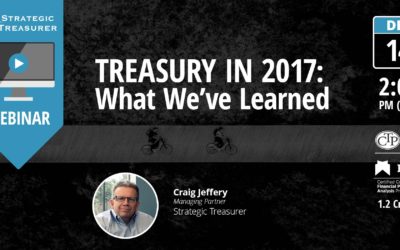 Take a look at Strategic Treasurer's last webinar of 2017! During this webinar, we took a look at some of the most important developments in treasury during 2017. Topics of discussion included the rise of fraud, innovations in technology, and trends in treasury.