Webinars
Register for our upcoming complimentary webinars below. Each webinar is approved for CTP and FP&A re-certification credits where noted.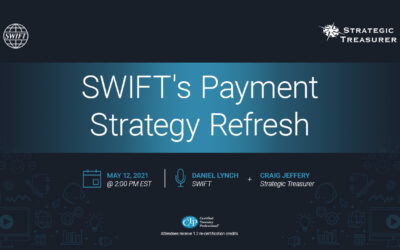 SWIFT has significantly enhanced its vision and strategy moving from a messaging platform to a transaction management partner. Intelligent adaptation has helped SWIFT adapt over time. Changes in payment and messaging platforms are impacting many companies. Hear how the new payment strategy can influence your understanding of payments whether you are a treasury or payments professional. This has applicability to SWIFT members and those not on the network. This covers even if you aren't a SWIFT member. APIs, pre-validation, etc. help us to contemplate the new world of control, payments and what is new at SWIFT.
Sign-up for first notice about our upcoming webinars
Webinar Replays
At this time, only live webinars qualify for CTP and FP&A re-certification credits. We have heard your requests and are working to implement a system where you can receive credits for replays. Thanks for your patience!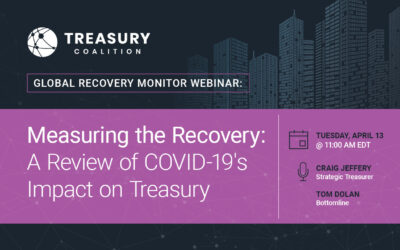 A year into the COVID-19 global pandemic, the Treasury Coalition continues to gather data on the crisis and recovery. The Coalition, formed to assist treasury and finance professionals by means of timely information, collects and distributes data through the Global Recovery Monitor, a brief survey currently run on a bi-monthly basis. Its areas of inquiry include concerns and response plans, economic preparations and outlooks, impact changes, and developments over time. With a full year's worth of data now, this webinar will review the results of all 19 periods, dive into cross cuts, and discuss what organizations can do moving forward in 2021.
Request Future Webinar Topics