Global Crisis/Recovery Monitor
A Treasury Update Podcast Series
This series within The Treasury Update Podcast features results from the Global Crisis/Recovery Monitor, a survey held to collect COVID-19 impact and response data from active treasury and finance professionals.
Listen in to this series every Thursday after each period survey closes to learn timely insights and how treasury professionals can help take positive steps to move our organizations and nations forward.
Visit treasurycoalition.com for the current survey, past results, and more.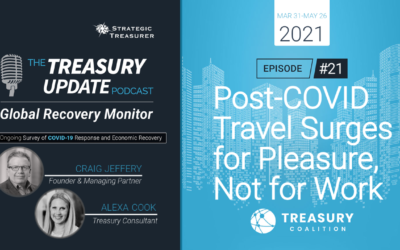 On this episode of the Global Recovery Monitor series, Craig Jeffery and Alexa Cook of Strategic Treasurer deliver Period 20 results from the Global Recovery Monitor. This update reveals new kinds of trends and data around the economy, staffing, travel, organizational liquidity and more. Listen in to hear some surprising expectations reported by the treasury and finance community.